Conduct PVBox for SolarEdge 25-27.6kW + AC Surge Protection
Conduct PVBox for SolarEdge 25-27.6kW + AC Surge Protection
SKU:
SE.25-27.6K.T1.3IN.3OUT.M.AC.S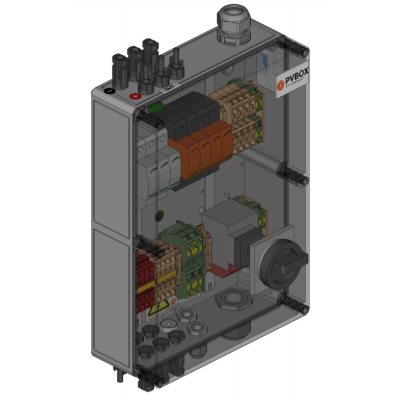 PVbox 1 MPPT 3x in / 3x out. Equipped with 1x PSC3-5/1000 PV IR type 1 + 2 protection. Solar cable 6mm2 mounted on MC4 connectors. PE cable 16mm2 mounted on terminal blocks for connection to 1 x PE. AC surge protection type 1 + 2 PSC4-12.5/400 TT IR, with AC switch 63A.
Login to see Trade Prices
Manufacturer

Conduct

Accessory Product Type

Combiner Boxes

Commodity Code

85354000

Dimensions (mm) (H x W x D)

254 x 361 x 111
Due to the type 1 + 2 SPDs provided in the PVbox, the connection boxes always offer the correct level of security. This makes PVbox SE ideal as a regular surge protection cabinet and for use in the presence of a connection to a lightning protection installation. As lightning protection and PV systems are increasingly linked, the demand for surge protection type 1 + 2 is growing . With the PVbox SE, Conduct has now provided the standard connection box with Type 1 + 2 SPD for the inverter series below. Approved by SolarEdge.
PVbox SE is fully based on the technical guidelines as stated by SolarEdge and can be connected directly by means of MC4 connectors. PVbox SE is not equipped with string fuse holders because no return current can flow due to the use of Optimizers. It is also not equipped with a switch disconnector as the SolarEdge SafeDC function complies with the guidelines according to NPR 5310-712: 2016 '' 6.2.2 Switches and disconnectors ''. Here reference is made directly to NEN-EN-IEC 60947-3 and NEN-EN-IEC 60669-2-4.
From now on, all PVbox SolarEdge models are equipped with Phoenix Type 1 + 2 SPDs . It is also possible to Pulse Check adding to PVbox. This valuable addition in combination with the Phoenix SPDs offers the end user complete insight into the state of the protection function in PVbox. This allows the person responsible for the plant to take action after a lightning strike and to inspect the "affected" PV plant. Based on this quality guarantee and the ImpulseCheck monitoring function, PVbox offers maximum achievable quality and complete and up-to-date insight into the condition of the security modules. PVbox SE offers you:
Type 1 SPD: Maximum protection with and / or without lightning protection installation
Lightning current tested: guaranteed operation of surge protection function
Equipped with divisible SPD: prevents complete disconnection of the PVbox for insulation measurement (Scope 12)
Prepared for ImpulseCheck: possibility to install ImpulseCheck later (lightning counter)
Full transparent hood: permanent visibility of SPD function indication
When using PVbox, overvoltage protection1) is to be provided at the LPZ zone limit