Phoenix Contact SunClix Female Solar Cable Coupler
Phoenix Contact SunClix Female Solar Cable Coupler
SKU:
PV-CF-S2.5-6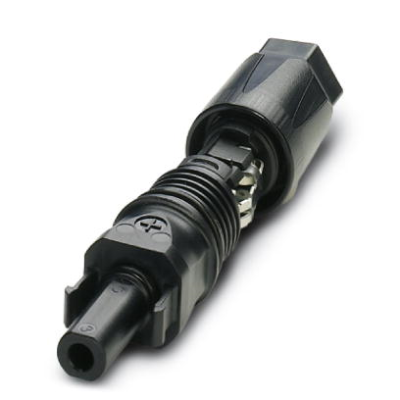 Female DC plug-in connectors with fast connection for field assembly
Only two versions for conductor cross sections from 2.5 to 16 mm2
Patented spring connection
Voltages up to 1100 V or 1500 V
IP68 protection (24 h/2 m)
DIN EN 50521 and UL 6703-compliant
The plug-in connector can be re-used multiple times
Login to see Trade Prices
Manufacturer

Phoenix Contact

Accessory Product Type

Solar Connectors

Commodity Code

85359000

Dimensions (mm) (H x W x D)

18.6 x 60.5
SUNCLIX from Phoenix Contact is the only line of DC connectors designed with a unique interface that prevents installers from making a connection using components from different manufacturers. When you couple different contact designs, poor performance is sure to follow, as are loss of energy and potentially hazardous failures. The effects of pairing components from different manufacturers can lead to a multitude of problems:
• Local hot spots, arcing, overheating, and material degradation
• Energy loss, total system breakdown, fire damage, and bodily injury
• Loss of financial earnings, loss of the overall investment, and potentially huge liability
• It's an easy assumption
Non-compatible pairings may seem harmless, but looks can be deceiving. The fact is that IEC and UL certifications are only valid for mated components of the same manufacturer. Transition resistance exposes connectors to excessively high heat. Loss of energy due to that heat damage causes financial loss, too – for large- and medium-sized PV systems, this can result in millions of pounds.