Victron Smart 12.8V/100Ah LiFePO4 Battery with M8 Insert
Victron Smart 12.8V/100Ah LiFePO4 Battery with M8 Insert
SKU:
BAT512110610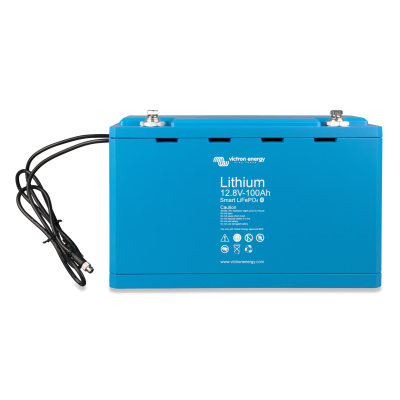 With integrated cell balancing
Can be parallel and series connected
Bluetooth app available to monitor cell voltage and temperature
Login to see Trade Prices
Manufacturer

Victron Energy

Voltage

12.8V

Battery Chemistry

Lithium-Ion

Commodity Code

85076000

Dimensions (mm) (H x W x D)

197 x 321 x 152
Lithium iron phosphate (LiFePO4 or LFP) is the safest of the mainstream li-ion battery types. An LFP battery does not need to be fully charged. This is a major advantage of LFP compared to lead-acid.
Other advantages are the wide operating temperature range, excellent cycling performance, low internal resistance and high efficiency. LFP is, therefore, the chemistry of choice for very demanding applications including off-grid solar and/or wind.