Wallbox Copper SB EV Charger 22kW 3 Phase Type 2 5m Untethered - Black
Wallbox Copper SB EV Charger 22kW 3 Phase Type 2 5m Untethered - Black
SKU:
CPB1-S-2-4-8-002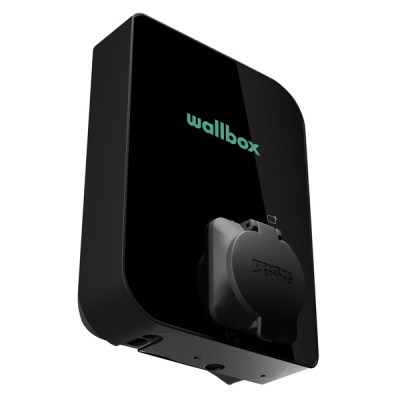 Its integrated socket allows charging for any EV on the market.

- Connects to any smart device via Wi-Fi,
- Bluetooth, Ethernet, or 4G (optional).
- Secure shared access with password protection, RFID cards, or the myWallbox app
- Use the myWallbox platform to control multiple chargers and users, access our energy management solutions, benefit from our integrated payment system, and more.
- Connect two or more chargers to the same electrical circuit. Copper SB integrated software intelligence automatically balances the power distribution across all connected chargers based on each vehicle's need for power, providing optimal charge to all EVs at the same time.
Login to see Trade Prices
Manufacturer

Wallbox

Phases

3 Phase

EV Power Rating kW

22

Commodity Code

85044088

Dimensions (mm) (H x W x D)

260 x 192 x 113
Charger Type: AC
Charging Mode: Mode 3
Colour: Black
Connector Type: Socket
(Type 1 and Type 2)
Operating Temperature: -25ºC to 40ºC
Storage Temperature: -40ºC to 70ºC
Connectivity: Wi-Fi / Ethernet / Bluetooth /
Optional: 3G-4G
User Identification: RFID Card / myWallbox app
User Interface: myWallbox app & portal
Charger Status RGB LED / myWallbox app
Information: & portal
Included Features: Power Sharing
Optional Features: Power Boost / Dynamic
Power Sharing / MID Meter
Communication Protocol: myWallbox / OCPP 1.6j
Maximum Charging Power: 7,4 kW (1Phase) /
22 kW (3Phase)
Rated Voltage AC ± 10%: 220 V to 240 V (7,4 kW) /
400 V (11 kW and 22 kW)
Rated Current: 32 A (7,4 kW - 1Phase) /
16 A (11 kW - 3Phase) /
32 A (22 kW - 3Phase)
Connector Type: Socket Outlet Type 2
Cable Cross Section