Fronius Overvoltage Protection DC SPD type 1+2 (10-27kW)
Fronius Overvoltage Protection DC SPD type 1+2 (10-27kW)
SKU:
41.0001.0719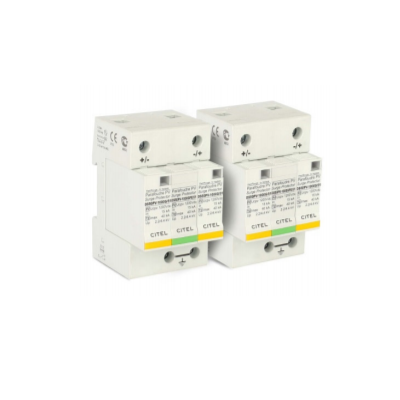 The type 2 overvoltage protection and the type 1+2 combi arrester (DC OVP type 1+2) for direct or indirect lightning strikes are particularly suitable for use with the Fronius Symo 10.0 - 20.0 kW and Fronius Eco inverters.
Login to see Trade Prices
Manufacturer

Fronius

Communication

Integrated

Commodity Code

85159080
For the Fronius Symo, customers can choose from two options for each variant depending on the application: the single MPPT option if both MPP trackers are connected or the multi MPPT option if both MPP trackers are used separately. For the Fronius Eco on the other hand, only the single variant is required for the type 2 overvoltage protection. Both measuring channels can also be used with the single variant. As is the case with the Fronius Symo, customers can choose between the single MPPT option and the multi MPPT option for the type 1+2 combi arrester, depending on whether only one or both measuring channels are used. Thanks to the adjustable, integrated remote signalling function, the system operator is notified automatically via the Fronius Solar.web online portal*). whenever the
overvoltage protection trips. The plug-in modules allow for fast replacement in the event of a fault. Therefore only the individual module has to be replaced, rather than the entire overvoltage protection. The overvoltage protection is supplied pre-installed and fully cabled**).
* A Fronius Solar.web account is required.
** The option must be ordered at the same time as the inverter. A retrofit version is not available, however the overvoltage arresters can
be ordered separately from Fronius.