Victron Cyrix-Li-Charge 24/48V-230A Intelligent Charge Relay
Victron Cyrix-Li-Charge 24/48V-230A Intelligent Charge Relay
SKU:
CYR020230430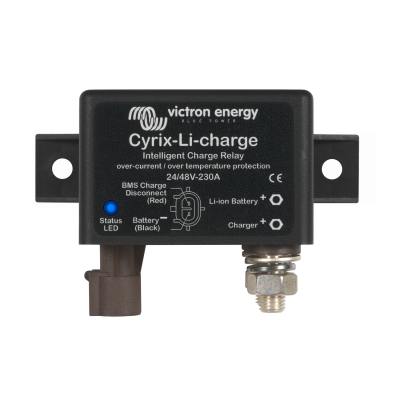 The Cyrix Battery Combiner is a microprocessor-controlled heavy duty relay that automatically connects batteries in parallel when one of them has reached a pre-set voltage (indicating that the battery is being charged), and disconnects when the voltage decreases below float level (indicating that one or more batteries are being discharged).
Login to see Trade Prices
Manufacturer

Victron Energy

Accessory Product Type

Battery Isolators & Combiners

Commodity Code

85364190

Dimensions (mm) (H x W x D)

65 x 100 x 50
Cyrix Battery Combiners are an excellent replacement for diode isolators. The main feature is that there is virtually no voltage loss so that the output voltage of alternators or battery chargers does not need to be increased.
The Cyrix-Li-Charge will connect a battery charger with 3 seconds delay:
- if the Charge Disconnect output of the VE. Bus BMS is high, and
- if it senses 13,7V (resp. 27,4V or 54,8V) or more on its battery charger connection terminal, and
- if it senses 2V or more on its battery terminal (the Cyrix will remain open, if not connect to the battery).
The Cyrix-Li-Charge will disengage immediately whenever its control input becomes free-floating, signalling cell over voltage or cell over temperature. In general, a cell overvoltage alarm will reset shortly after charging has been stopped. The Cyrix will then reconnect the charger after a delay of 3 seconds. After two attempts to reengage with 3 seconds delay, the delay increases to 10 minutes. Whenever the battery voltage is less than 13,5V (resp. 27V or 54V), the Cyrix will disengage with a delay of 1 hour. Note 1: In case of zero discharge current, or a small discharge current, the Cyrix will not disengage shortly after the charger has been switched off and/or disconnected, because battery voltage will remain higher than 13,5V. Note 2: If, after the Cyrix has disengaged, the output of the battery charger immediately increases to 13,7V or more, the Cyrix will reengage, with 3 seconds delay.