Victron Galvanic Isolator VDI-64A
Victron Galvanic Isolator VDI-64A
SKU:
GDI000064000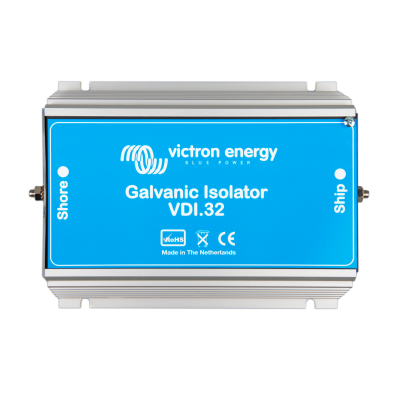 The galvanic isolator prevents electrolytic corrosion. It blocks low voltage DC currents that enter your boat via the shore power earth wire.
Login to see Trade Prices
Manufacturer

Victron Energy

Accessory Product Type

Battery Isolators & Combiners

Dimensions (mm) (H x W x D)

63 x 164 x 335
These currents can cause corrosion to the boat's underwater metals, like the hull, propeller, shaft and so on. The galvanic isolator consists internally of two diodes which are connected in anti-parallel fashion. When they are connected in this way, the diodes allow current in both directions but only above a certain threshold voltage. The voltage at which diodes conduct is about 1.4 Vdc.