Victron Smart Battery Management System (BMS) for LiFEPO4 Smart Batteries CL 12-100
Victron Smart Battery Management System (BMS) for LiFEPO4 Smart Batteries CL 12-100
SKU:
BMS110022000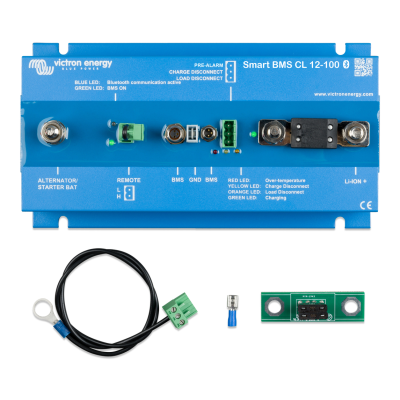 The Smart BMS CL 12/100 is a Battery Management system for Victron lithium-iron-phosphate (LiFePO4) Smart Batteries.
Login to see Trade Prices
Manufacturer

Victron Energy

Accessory Product Type

Battery Management Systems (BMS)

Dimensions (mm) (H x W x D)

65 x 120 x 224
It has been specifically designed for 12V systems with a 12V alternator. The BMS CL 12/100 monitors and protects each individual battery cell within the battery (or battery bank) and will disconnect the alternator, charge sources or DC loads in case of low battery voltage, high battery voltage or over temperature. The dedicated alternator input provides current limiting and one-way traffic from the alternator into the battery, this so any size alternator (and start battery) can be safely connected to the Smart Lithium battery or batteries. The BMS is also equipped with a remote on off connector, to turn the BMS (and the system) off via a remote switch, and a pre-alarm contact, to give a warning signal before the BMS will disconnect the batteries from the system.