Conduct PVBox for SMA STP 15-25kW
Conduct PVBox for SMA STP 15-25kW
SKU:
SMA.STP.15000-25000.T1.M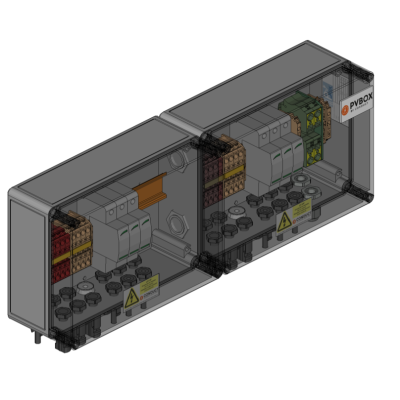 We offer PVbox SMA specifically for protecting SMA converters. Thanks to the Type 1+2 SPDs provided in the PVbox, the PVbox SMA connection boxes always offer the right level of protection.
Login to see Trade Prices
Manufacturer

Conduct

Accessory Product Type

Combiner Boxes

Commodity Code

85354000

Dimensions (mm) (H x W x D)

180 x 508 x 111
As a PV engineer, you no longer have to inquire whether an external lightning protection system is present: PVbox SMA suffices. This makes PVbox SMA ideal as a regular overvoltage protection cabinet for use in the presence of and connection to a lightning protection system. PVbox SMA is completely based on the technical guidelines as set out by SMA and can be directly connected by MC4 connectors. Based on SMA and PVbox SMA you can connect PV panels in the correct and most secure way.