Victron Phoenix Inverter 48V/800VA/120V VE.Direct with NEMA 5-15R Socket
Victron Phoenix Inverter 48V/800VA/120V VE.Direct with NEMA 5-15R Socket
SKU:
PIN481800500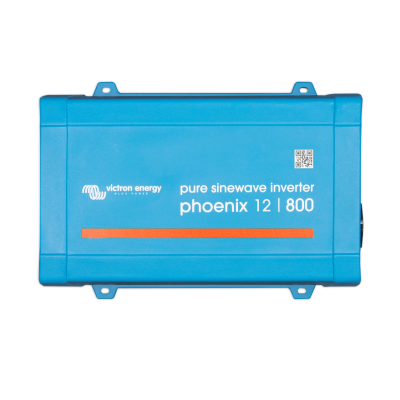 Inverters allow you to power domestic equipment - requiring 230V/120V AC - using 'leisure' or 'automotive' batteries rated at 12V, 24V or 48V DC.
Login to see Trade Prices
Manufacturer

Victron Energy

Voltage

48V

Commodity Code

85044084

Dimensions (mm) (H x W x D)

105 x 216 x 305

Grid Voltage

120V

Output Connector

NEMA 5-15R Socket
HIGHLY RELIABLE - BUILT FOR THE YEARS AHEAD
Phoenix Inverters are built to last. They feature sophisticated full-bridge and toroidal transformer topology - which is suitable for powering sensitive electronics. They are overload, temperature, and short-circuit protected.
FULL BURSTS - HIGH PEAK OUTPUT
Some electronic devices - particularly those which have an electric motor - require short burst of energy on start-up which is much higher than their rated power consumption. No problem - the Phoenix inverter has industry-leading peak-power capability.
INTELLIGENT ALARMS, SHUT-DOWNS, AND RE-STARTS
A high power draw on start-up can trigger false alarms, and shut-downs. Phoenix makes allowance for this and only shuts down in cases of persistent overload. Intelligently - shut downs will be followed by a series of re-starts - to eliminate 'false alarms'.
CONSERVE POWER WITH ECO MODE
In Eco mode the inverter shuts down when no power is required. Phoenix senses the output socket every couple of seconds and automatically turns back on if power is again required.
USER-CONFIGURABLE SETTINGS
Phoenix has a communication port providing access to status information, alarms and automatic user-configurable low-voltage shut downs. Shut downs will be followed by a series of intelligent re-start attempts. User settings can be accessed from your computer or mobile device via VictronConnect - our free-to-use app.