Victron Battery Monitor BMV-702
Victron Battery Monitor BMV-702
SKU:
BAM010702000R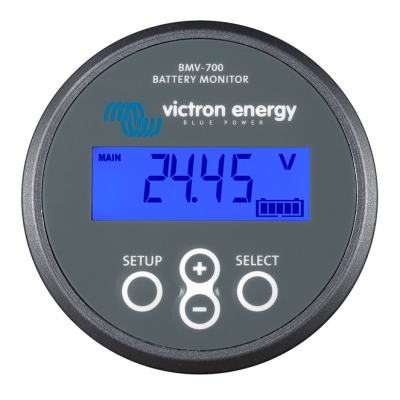 The BMV-700 is Victron's newest high precision battery monitor. The essential function of a battery monitor is to calculate ampere hours consumed and the state of charge of a battery. Ampere hours consumed are calculated by integrating the current flowing in or out of the battery.
Login to see Trade Prices
Manufacturer

Victron Energy

Accessory Product Type

Battery Monitors & Accessories

Commodity Code

85371098

Dimensions (mm) (H x W x D)

69 x 69 x 63
MIDPOINT VOLTAGE MONITORING (BMV-702 ONLY)
This feature, which is often used in industry to monitor large and expensive battery banks, is now for the first time made available at a low cost, to monitor any battery bank. A battery bank consists of a string of series-connected cells. The midpoint voltage is the voltage halfway along the string. Ideally, the midpoint voltage would be exactly half of the total voltage. In practice, however, deviations will be seen, that depends on many factors such as a different state of charge for new batteries or cells, different temperatures, internal leakage currents, capacities and much more. Large or increasing deviation of the midpoint voltage points to improper battery care or a failed battery or cell. Corrective action following a midpoint voltage alarm can prevent severe damage to an expensive battery. Please consult the BMV manual for more information.
BMV-702 ADDITIONAL FEATURES
Additional input to measure voltage (of a second battery), temperature or midpoint voltage, and corresponding alarm and relay settings.